2022 Summer Business Japanese Special Courses
Point
Learn Business Japanese and skills from experts in various fields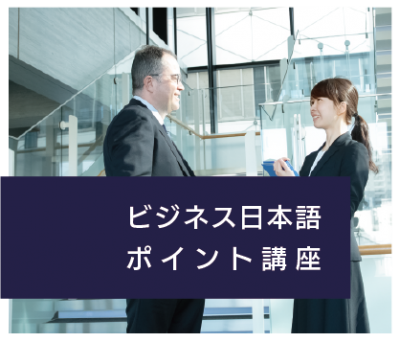 In this course, you will learn about the Japanese language, cultural knowledge, manners, and skills actually required in business situations.
This is a valuable opportunity to learn from experts in each field about carefully selected topics. It also includes preparation for the "BJT Business Japanese Proficiency Test" (Japan Kanji Aptitude Testing Foundation), which is a great help for international students in their job hunting activities. If you plan to take the BJT examination, this course will be great  use to you.
This term, with new instructors, participants can freely choose courses of their own interest from a total of 14 courses with more carefully selected themes. If you are unable to attend the course on the day of the lecture, all those who have signed up will be able to view the lecture videos at a later date. Please take this opportunity to deepen your understanding of business Japanese and business culture, and use it to improve your Japanese language skills and build your future career.
*The program content will be different from the 2022 spring program.
Period
August 25, 2022 (Thursday) , 12:00 AM (JST) 〜 August 31, 2022 (Wednesday) , 11:59 PM (JST)
Target
Target: International students or employees with Japanese proficiency equivalent to JLPT N2 or above.
* Non-Toyo University students can also take this course.
* Participation from abroad is highly welcomed.
Capacity
1,000 participants per lecture (first-come-first-served basis)
Fee
Free (Some courses are paid)
Application period
August 02, 2022 (Tuesday) , 12:00 AM (JST) ~ August 30, 2022 (Tuesday) , 11:59 PM (JST)
Precautions
All display times are in Japan time.
All courses will be conducted in Japanese only.
You can freely choose if you wish to attend one or multiple lectures.
Those who complete the post-attendance questionnaire will have access to the materials and videos used in the class only if the lecture gives permission to distribute them.
For the paid courses, if you attend more than 72minutes (80% of the lecture time), you will be able to download the certificate of completion accredited by Toyo University.