2023 Summer Toyo University Online Course - Insight into Japan
Point
Exploring the Charm of Japan: Liberal Arts Course by Experts from Toyo University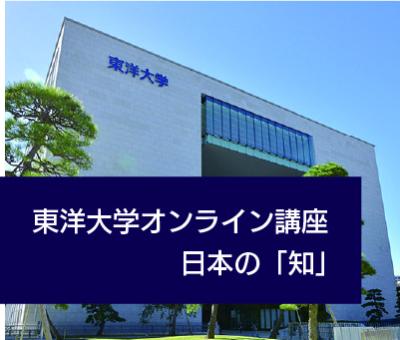 Toyo University is committed to carrying on the vision of its founder, Enryo Inoue, and making the excellent knowledge possessed by the university beneficial to society. As part of this commitment, we offer numerous public lectures and lifelong learning programs. In this course, we will explore various topics related to Japan, including Japanese culture, economy, and social issues, delivered by experts from Toyo University. Understanding the background of Japanese culture and social issues can also deepen your comprehension of the Japanese language. Whether you are new to Japanese culture, seeking to expand your knowledge, or planning to study or work in Japan, we warmly welcome you to join our courses.
 
In the case you cannot attend the class on the day, you will be able to view the lecture videos if you apply for the course.
For the academic year 2023, participation in the courses is free of charge.
●Greetings from the President of Toyo University, Dr. Etsuko Yaguchi: Video
●More information about Enryo Inoue: Toyo University Website
Period
August 17, 2023 (Thursday) , 12:00 AM (JST) 〜 August 19, 2023 (Saturday) , 12:00 AM (JST)
Target
Japanese proficiency equivalent to JLPT N2 or above
* Participation from abroad is highly welcomed.
* All courses will be conducted in Japanese only.


Capacity
1,000 participants per lecture (first-come-first-served basis)
Application period
July 26, 2023 (Wednesday) , 12:00 AM (JST) ~ August 15, 2023 (Tuesday) , 11:59 PM (JST)
Precautions
All display times are in Japan time.

All courses will be conducted in Japanese only.

You can freely choose if you wish to attend one or multiple lectures.

Those who complete the post-attendance questionnaire will have access to the materials used in the class.

The lecture videos will be provided if you apply for the course even if you cannot attend the lecture of the day.