2022 Spring BJT Business Japanese Proficiency Test Preparation Course
Point
Preparation for the goal of passing the BJT Business Japanese Proficiency Test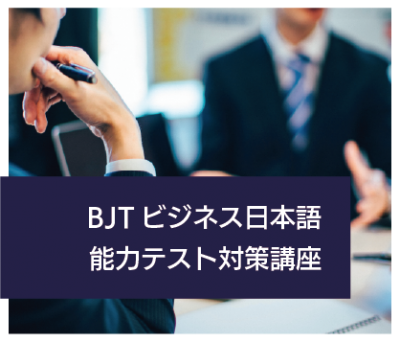 Business Japanese is required for job hunting in Japan. In this course, while conducting exercises with the goal of passing the BJT Business Japanese  Proficiency Test J2 level, you will acquire the socio-cultural knowledge necessary for working in Japanese society and improve your overall business Japanese proficiency. In the class, the lecture will explain how to get used to the question format using the same format as the BJT Business Japanese Proficiency Test, understand the points, and then be able to derive the correct answer on your own.
 
Period
March 15, 2022 (Tuesday) , 06:15 PM (JST) 〜 March 25, 2022 (Friday) , 07:45 PM (JST)
Target
Japanese ability equivalent to N2 (JLPT) or higher


Capacity
1,000 participants (first-come-first-served basis)
Application period
March 02, 2022 (Wednesday) , 12:00 AM (JST) ~ March 11, 2022 (Friday) , 11:59 PM (JST)
Precautions
Eligibility:
・ Those who can take classes using a computer (tablet terminal) or headset
* You cannot take classes from your mobile phone as you will be asked to solve the questions.
・ Those who can attend all four lessons.
*Lesson materials and videos will not be provided.